Presentation (français)
Presentation (english)
Coherer receivers
Time receivers
Military 1st WW
J.HUET
H.HURM
LEMOUZY
DUCRETET
PERICAUD
La Radio Industrie
RADIO-TECHNA
VITUS
Miscellaneous 20-25
Miscellaneous 20-25 (2)
Miscellaneous 25-30
Misc crystal sets
Misc crystal sets (B)
Misc crystal sets (2)
PHILIPS
SONORA
Miscellaneous 30-40
Miscellaneous 40-60
Miscellaneous 40-60 (2)
Atwater Kent
American Radios
American Radios 2
Metal radios
Early HI-FI
Test equipements
Loudspeakers
Medical
JC Verdier products
RADIOMUSE
4 tubes receiver. 1 tube regenerative detector + 2 stage audio frequency amplifier + 1 stage radio frequency amplifier (1924)
Récepteur 4 lampes, 1 étage HF, 2 étages BF (1924)
SET
3 tubes , Reinartz circuit all-wave receiver (also exists with the brand name "M.C"). 1923
Récepteur 3 lampes, montage Reinartz toutes longueurs d'ondes (existe aussi sous la marque MC)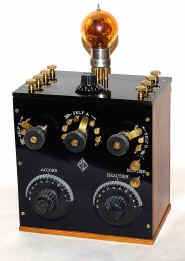 MC
A 1 tube version of the previous set with the brand name MC. This one is only for short waves (20 to 900 m). 1924
Une version monolampe du récepteur présenté ci-dessus, celui-ci sous la marque MC. Appareil destiné à la réception des ondes courtes (20 à 900 m). 1924
SIF
2 tubes receiver. Crystal detector + 2 stages resistor audio frequency amplifier. (1922)
Récepteur 2 lampes, 2 étages HF à résistance (1922)
SER-BROWN
Model "SM9", 4 tubes receiver. 1 tube regenerative detector + 3 stages audio frequency amplifier. Coils with iron core. (1924)
Récepteur 4 lampes modèle "SM9". 3 étages HF (1924)
CHARRON-BELLANGER ET DUCHAMP
3 tubes receiver. 1 tube regenerative detector + 2 stages audio frequency amplifier. (1925)
Récepteur 3 lampes, 2 étages BF (1925)
R DEFAY
Miniaturized 4 tubes receiver, clearly inspired by Horace Hurm's design.1 tube regenerative detector + 2 stages audio frequency amplifier (C1925)
Récepteur à 4 lampes clairement inspiré par les fabrications d'Horace Hurm. 2 étages BF (C1925).
R DEFAY (2nd version)
Miniaturized 4 tubes receiver, clearly inspired by Horace Hurm's design.1 tube regenerative detector + 2 stages audio frequency amplifier (C1925)
Récepteur à 4 lampes clairement inspiré par les fabrications d'Horace Hurm. 2 étages BF (C1925).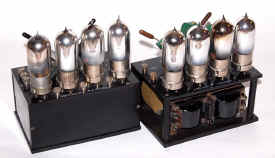 R DEFAY
Back view of the 2 Defay radios. As visible, one is all closed with ebonite panels and the other is all opened. Many other differences beetween the 2 (coils, engraving, size, terminals...). Another one with some more differences is known in a french collection.
Vue arrière des 2 postes Defay. L'un est entièrement fermé par des panneaux d'ébonite. L'autre est entièrement ouvert et toute l'électronique est visible. Il y a beaucoup d'autres différences entre les 2 (bobines, gravures, dimensions, bornes...). Un autre avec encore plus de différences est connu dans une collection française. Je n'ai jamais trouvé aucune information sur ce constructeur atypique. TOUTE INFORMATION BIENVENUE.
LIOTARD
4 tubes radio, regenerative detector (1924)
Récepteur 4 lampes (1924)
Le TSF (Grandin et Moreau constructeurs)
Model PU4 (first version), 4 tubes (1924). Sometimes labelled "Cosmophone 701" in Paul Graff advertisements.
Modèle PU4 (première version avec rhéostats à plots et boutons à index). 4 lampes (1924). On trouve cet appareil dans les publicités de Paul Graff sous l'appellation "Cosmophone 701". Paul Graff n'a jamais été rien de plus qu'un revendeur.
RADIO-REX (G. Gilbert et Cie)
Model GDR4. 4 tubes with Y type bases and TM type adaptors. Pictured with Microlux 2 filaments tubes (1924).
Modèle GDR4, 4 lampes à culots Y, adaptateurs pour culots TM. 2 étages HF; 2 étages BF. Équipé de lampes à 2 filaments Microlux pour la photo (1924).
Georges Gilbert exerçait en qualité d'électricien à Thouars dans les Deux-Sèvres. On lui doit en particulier l'électrification de la ville de Thouars et l'édition d'une petite revue à vocation promotionnelle sous le titre "L'éveil électrique de France". Dans les années 20, il propose à la vente une gamme de récepteurs de TSF de conception très originale, dont ce modèle GDR4 qui se singularise de la production courante par ses selfs au design particulier et un étage H.F particulièrement soigné. Beaucoup de pièces sont d'origine GMR. Les appareils Gilbert arborent la plaque d'une très mystérieuse "Compagnie Française d'Installations et d'Exploitations Électriques", située au 41 Bvd Haussmann à Paris. Cette adresse figure aussi dans l'annuaire du commerce Didot Bottin 1925 mais semble peu compatible avec le statut de constructeur provincial de Georges Gilbert (s'agissait-il d'une boite aux lettres, d'une chambre de bonne sous les toits, d'un accès de mégalomanie???). La production radio de Georges Gilbert est semble t'il demeurée confidentielle. L'essentiel de son activité était l'électrification des campagnes.
TELA (Établissements GMR, Georg, Montastier et Rougé)
Model RC4, 1 stage radio frequency amplifier, 2 stages audio frequency amplifier, régénérative detector (1924)
Modèle RC4, 1 étage HF, 2 étages BF (1924)
RADIO LL (Lucien Lévy)
Model 1005 "Audionette Coffret", 5 tubes (C1923-24)
Modèle 1005 "Audionette coffret", 5 lampes. Cet appareil réuni dans un coffret tous les éléments d'une Audionette 5 lampes. Il s'agit du premier poste à lampes intérieures fabriqué par Radio LL. (C1923-24)